Come and enjoy one of the top kart tracks, designed according to European standards to combine fun and safety. It is 550m long. and width 6-8m. It has 14 K, i.e. 14 turns of which 7 are right and 3 left. It is fully fenced with tires for even greater safety. It has 6 pillars with 14 headlights to enjoy night driving as well. We are one of the only tracks where you can participate in championship races.
Safety is the fundamental requirement we have from our staff and our equipment, so that our customers can be completely calm and satisfied.
SODI LR4 & SODI LR5 have been adopted by most traffic management parks worldwide.
We provide a free helmet and neck protector for those who do not have their own.
Since the use of balaclava is mandatory based on the decision 20531 D1a/G.P.ok 32009 (F.E.K. 20531 sheet 1988/23-5-2020), balaclavas are sold in our store at a cost of €3.
We have installed a telemetry system to adjust the power of the kart engines, to 100%, 75%, 50%, 25% or even turn it off remotely.
without waiting and delays!
Buy your tickets online through our system and save time and money. Find the package that suits you best and find out about our offers.
at the GoKart Center track
Create your profile on the RaceFacer social platform and enjoy unique benefits and discounts.
We can through the OnBoard 13 platform record your route, view your video, download it and share it with friends!
If you are looking for intense entertainment and adrenaline doses, we have the most famous league for you!
PARTICIPATION IN SODIKART'S SWS CHAMPIONSHIP
With no obligations and no pressing schedules, on the GoKart Center track you drive, earn points and after each race your world ranking in the championship you participate in is formed.
Discover a new world with the Sodi World Series and you will feel the real thrill of a go kart pilot during a go kart race, having fun on the GoKart Center track!
At the GoKart Center track, there is a cafe, where you can organize your event in conjunction with a kart race.
CARD PRICE LIST
10 MINUTES RT 8, 200cc: €14
10 MINUTES RT 8, 270cc: €17
10 MINUTES RT8, 400cc: €20
10 MINUTES R MAX, 125cc: €32
10 MINUTES Sodi Double: €17
Duration: 10 minutes
HOURS
MONDAY to SUNDAY
9:00 – 23:00 and holidays open.
REGULATIONS
To become a driver of our race track , you need to register as a driver either through our website Quick Registration or by visiting our premises.
For your first time on our track, you start with the 200cc kart. Times are recorded automatically, allowing you to progress and unlock karts of larger displacement step by step:
a)With the 200cc kart, if you get under 40sec in a single lap, which will count as the best lap, you instantly unlock the 270cc.

b) With the 270cc kart, making a time under 39 sec unlocks the 400cc.

c) With the 400cc kart, having now moved up a category and you have proven to yourself and your friends that you are developing as a driver, therefore you now need to have a constant lap time of 35 to 36 sec, i.e. in all the laps you will run, 2 with 3 times at least (normal ten minutes). Then you are ready to move on to the fastest phase which is the racing kart, two-stroke R MAX 125cc.

d) After checking your times, but also your correct driving behavior inside the track, you are now ready to put on the racing uniform, the chest and live an absolutely sppedy experience with the R MAX 125cc
Some of the events we organize:
Birthday party
At GOKART CENTER, you can organize the most unique children's birthday party.
Our state-of-the-art equipment, combined with our willing and experienced staff, will ensure a uniquely entertaining and educational experience for you and your guests. We have an indoor air-conditioned area and an open space overlooking the track, where you can watch the children while they drive.
Trained personnel are responsible for the safe driving and fun of the children on the go-karts.
Invitations for your guests are available for free pickup at our location.
We provide free parking space. In our outdoor area, there are coin-operated games (with a separate charge) and a small playground for children.
Furthermore, our location has a cafeteria where you can get various types of coffee, soft drinks, juices, and light alcoholic beverages for adults.
We collaborate with a catering company and can offer you ready-made solutions for your menu, or you can ask us to send you a proposal for a specialized offer if you desire something different (refer to the catering menu attached to the email we will send you).
Estimated duration of the party: 2 – 2:30 hours Available start times for weekends: 12:00 and 15:00 Available start times for weekdays: 12:00, 15:00, 17:30
Suggested party schedule:
From the time of invitation, the children will enter and drive for approximately one hour. Children will be divided into groups (8 to 12 children per group) and watch a 4-minute educational video about the track's safety rules, followed by a preparation period for driving (approximately 10 minutes). Children will have their first experience driving the go-karts (10 minutes per group). Lunchtime Cake and dessert time.
We will send you the exact party packages and offers to your email.
For more information, please call the track's phone number: 2310-467466.
Bachelor party
Create an unforgettable experience for the bride and groom.
The bachelor party began as a gentlemen's party: a civilized night of drinking in a room with art boards, smoking and toasting the health of the bride.
Things have changed since then.
So organize an adrenaline and speed event, pit groomsmen against grooms/brides and bridesmaids in a fun race.
The event can be held in a normal race style with winners and losers, the three fastest winning the corresponding medal (1st gold, 2nd silver, 3rd bronze)
Team building
At the Go Kart Center track you can organize the most original corporate event. Our state-of-the-art equipment combined with our eager and experienced staff will ensure a uniquely fun and educational experience for you and your colleagues.
Suggested Corporate Event Program:
The drivers are divided into groups (8 to 12 drivers drive in each group).
Drivers watch a 4-minute video on safety rules and then prepare to drive. (we need about 10 minutes to fit drivers with helmets, protective collars, place them in the go karts, check seat belts and start the leg)

The first group of drivers enter the go karts (10 minute session each group)
As long as the drivers of the first group are running, we prepare the second group and so on.

Once all the legs are completed we can select the top 10 drivers based on the best time and organize the grand final

The cost for the event – race will depend on the number of drivers and the sessions (times) that will be run.
The price includes driving (tickets), balaclava for each driver and the cups with the printing of your company's logo.
Please note that the use of balaclavas is mandatory according to government regulations for hygiene and protection against diseases. The price of the event includes driving tickets, balaclavas for each driver, and cups with your company's logo. The cups for the 1st, 2nd, and 3rd place winners can also have your company's logo printed on them.
All prices mentioned include VAT and legal charges, and an invoice will be issued to your company at the end of the event. If you would like to have buffet catering, we can organize that as well.
Upon agreement we can organize buffet catering.
To proceed with the reservation and if we confirm the availability for the date you wish,you will need to make a deposit of €200 to the provided bank account GR77 0260 3360 0007 7020 0417 415 – EUROBANK – with the name A NOUSOPOULOS & SIA OE. with justification "Organization of team building event MOTO MARKET GO KART 2023"
The deposit amount will be deducted from the total cost of your event.
Lastly, we will require a list of participants' information including their full name, desired nickname for the results board, date of birth, email, and mobile phone number
SCHOOL EXCURSION
Trust us with the organization of your school excursion and treat the children to endless hours of play, entertainment, and competitive spirit, while also learning proper driving behavior and the rules of karting.
There are fun activities for the little ones, with the main focus, of course, being the races with the go-karts. It is an ideal place for school events that will remain unforgettable for both young and old, due to the exceptional comfort of the facilities.
TRAFFIC EDUCATION LESSONS (ACADEMY)
Our school provides a direct training system for the kart driver to learn how to drive and acquire correct theoretical and practical driving techniques.
Driving lessons can begin either after the driver has gained experience on our track and has already unlocked higher-displacement karts, or starting with the LR5 (children's kart) or the 200cc karts and unlocking the others along the way.
Initially, after familiarizing the driver with the starting and stopping process and all the basic knowledge imparted by the instructor, they progress to handling turns using combinations of various methods, testing their endurance and driving perception throughout. The goal is to improve their lap times and skills on the track, possibly preparing them for competitions.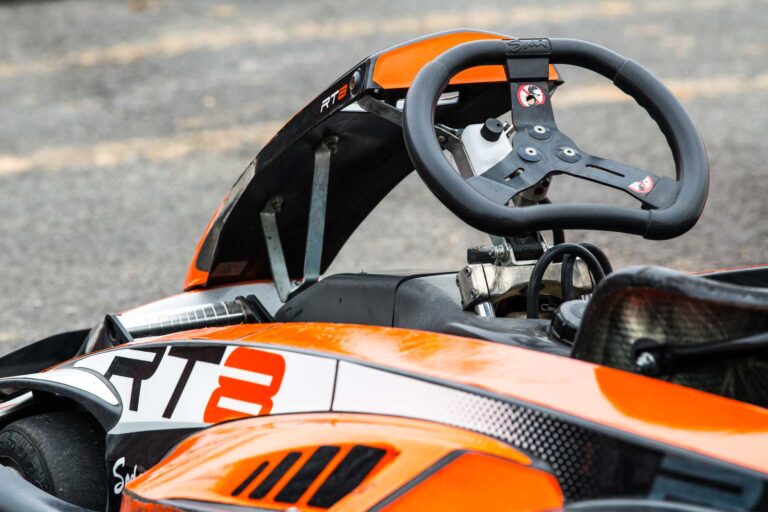 Discover a new world with the Sodi World Series and feel the real thrill of a go kart pilot during
The driver who wants to drive at the Go Kart Center track in Thessaloniki must make a free registration either
"You are aware that your participation on the go-kart track is prohibited with sandals, flip-flops, or other open-toed shoes."
IF YOU WOULD LIKE TO DRIVE BUT WEAR SANDALS/SLIDES PLEASE LET US ASSIST YOU.